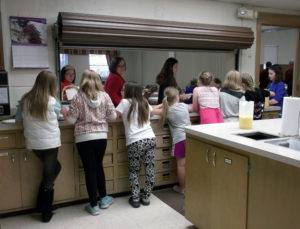 Breakfast food is often a childhood favorite. To make your morning routine easier, we offer a little something before Sunday School begins. Our upper elementary students take their turn in cooking and serving breakfast. The kids look forward to taking on a grown-up role as they put their hands to work.  Read More!
Music is a wonderful teaching tool and a simple way to participate in worship. We have two Sunday School opening groups which include singing. The 3 year olds through Kindergarten meet in the music room on the main floor, while the 1st – 6th grades meet in the Chapel. We also offer two choirs. The Kids Bells consists of 3rd – 12th graders which learn to play the handbells. Our vocal choir, Kids Praise, includes 3rd – 8th graders.  Learn More!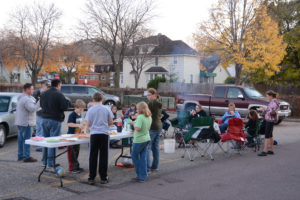 All members are invited to participate in the Fall Clean-up day. The kids especially like tromping in the leaves and s'mores by the fire after the work is done.  Read More!
Christmas Decorating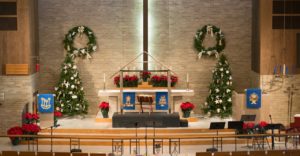 Children seem to love the excitement of the Christmas Season. A fun family tradition is decorating the Christmas tree. We have multiple trees around our building, and welcome the help in getting our church ready for Advent. There's lunch and goodies to finish off the morning.  The next time we'll be decorating is November 27th, 2016; meet in the fellowship hall after Sunday School.